Margaret Phillips
Concert organist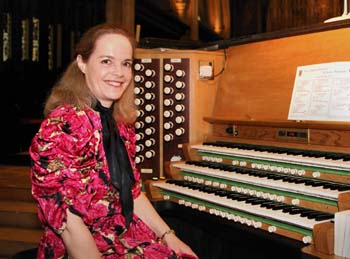 Biography
Regarded as one of Britain's most outstanding concert organists and teachers, Margaret Phillips made her début at the Royal Festival Hall and soon gained an international reputation as a soloist, playing at concert halls and cathedrals throughout Europe and in the U.S.A., Canada, Australia and Mexico. Alongside her busy concert career, she was a member of Council of the Royal College of Organists for 20 years, and President of the Incorporated Association of Organists from 1997–99. Since 1996 she has been Professor of Organ at the Royal College of Music in London.
Margaret regularly gives masterclasses both at home and abroad, and has been a jury member for organ competitions such as those held in St Albans (UK) and Odense (Denmark). Her critically acclaimed recordings include 2-CD sets of the organ works of Mendelssohn, Saint-Saëns and Stanley; all 16 CDs have now been issued in her complete cycle of Bach's organ works. The first two CDs (the 'Eighteen' and 'Schübler' Chorales and the Canonic Variations) received 5-star reviews in Goldberg Magazine and Choir & Organ, and these, together with a recording of the Orgelbüchlein, have been hailed as 'some of the finest performances of Bach chorale preludes on disc'.
Recent performance highlights have included the first concert for many years on the Flentrop organ in the Queen Elizabeth Hall, London, concerts on the historically significant organs of Trinity College (Cambridge, UK), Grauhof and Naumburg (Germany), Haarlem (Holland), Marmoutier and Bordeaux (France), and the ancient 'swallow's nest' organ in Sion (Switzerland). She was the first British artist to play an organ concert on the new organ in the recently rebuilt Frauenkirche in Dresden. Teaching on courses in Cambridge, Oundle, Canford-at-Sherborne, Haarlem and Sion have added to her busy schedule.
In 1994, Margaret Phillips and her husband founded the English Organ School and Museum in former chapel premises in Milborne Port, Somerset, where they have a collection of organs by English organ builders from the eighteenth century to the present day. EOS aims to provide facilities for learning and playing the organ, to promote the understanding and appreciation of the organ as a musical instrument, and to preserve a modest part of Britain's organ heritage.
To see a short video giving an overview of Margaret's Bach series, go to J. S. Bach
To see a short video filmed at the English Organ School as publicity for the organ festival held in Kumla, Sweden, in June 2008, please click on the link below.