Margaret Phillips
Concert organist
Multum in Parvo
Vincent Lübeck: Praeludium in E
Anon (Spanish, 17th cent.): Obra de falsas cromáticas de 1o tono
Pablo Bruna: Tiento de 1o tono de mano derecha
William Byrd: Rowland; Callino Casturame
J.S. Bach: Ricercar a 6
Select Piece no. in G – John Keeble
Joseph Bodin de Boismortier: La Caverneuse; La Décharnée
Samuel Wesley: Three pieces
Hendrik Andriessen: Theme & Variations
Sigfrid Karg-Elert: Plaisanterie (Scènes pittoresques Op. 31 no.4)
Théodore Dubois: Verset de Procession
Edward Elgar: Introduction & Voluntary 6 from Vesper Voluntaries Op. 14
Jules Mouquet: Menuet (from Sonata Op. 10)
Théodore Salomé: Pastorale & Grand Choeur in G
Recorded at the English Organ School & Museum, Milborne Port, and featuring 12 of the instruments in the EOS collection:
Organs by Snetzler (1769), James Davis (c. 1795), Samuel Green (1796), John Clark (1853), Telford & Telford (1865, rebuilt Peter Conacher 1903), James Conacher (1882), Peter Collins (1984) and Peter Collins (2000).
Harpsichords by Rubio (1972 after Taskin 1769) and Peter Taylor (2011 after Baffo 1574).
Harmoniums by Alexandre Père et Fils (1861) and Victor Mustel (1898).
Playing time 71:26. EOSCD21.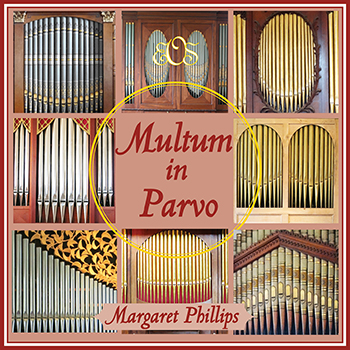 '…it is remarkable how brilliant and impressive Margaret Phillips's performance [of the Lübeck] sounds on a two-manual-and-pedal tracker of a mere nineteen ranks.
Phillips's primary goal is to teach and inform the public about the organ, and in this regard the compact disc has a great deal to teach us all.'
The Diapason, March 2020
'A remarkable disc and much enjoyed.'
The Organ Club Journal, 2017/3
'…Margaret plays a wide selection of appropriate music, all of it stylishly and compellingly…her exemplary notes [give] full details of every instrument…Margaret Phillips's splendid performances will convey the immense variety of the collection to many who have not yet visited the English Organ School and Museum.'
BIOS Reporter, October 2017
'The English Organ School and Museum has built up a valuable collection of organs, harmoniums and harpsichords, and this CD is a wonderful demonstration of the instruments, all played with stylistic authenticity and conviction by Margaret Phillips…Highly recommended.'
Choir & Organ, September/October 2017 Star Review *****
'The booklet for this fascinating CD lists all the instruments in use. The playing is very exposed but first rate, the pieces being matched to the period of the instrument in use. Most definitely Multum in parvo…'
Organists' Review, September 2017
Price and ordering information
Thank you for visiting these pages.
Margaret Phillips
Back to top of page