Margaret Phillips
Concert organist
Saint-Saëns
Camille Saint-Saëns (1835-1921): Three Rhapsodies on Breton Themes Op. 7;
Three Preludes & Fugues Op. 109; Fantaisie in D flat Op. 101;
Fantaisie in C Op. 157; Fantaisie in E flat (no Op. number).
Recorded at Exeter Cathedral. Organ by 'Father' Willis (1891),
rebuilt by Harrison (1936/1965) in Loosemore case (1665).
Playing time: 65:52. York CD 110 (cassette available).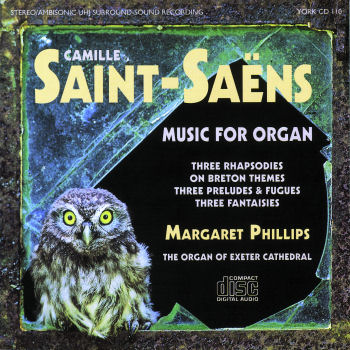 '... Margaret Phillips's performances are perfectly attuned to the idiom and the recording quality unimpeachable... highly recommended.'
CD Review, June 1991
'Margaret Phillips seems an ideal interpreter of this music, responding to all the elements and balancing them perfectly. She brings to her performances musicianship, technique, thorough preparation and an ear for colour. I found so much to enjoy that it's really impossible to single out any individual item.'
Organists' Review, June 1991
'Phillips's playing is a model of precision, restraint and style... attention to detail and elegance of approach... considerable wit and charm... a very worthwhile recording in every respect.'
Gramophone, May 1991
Price and ordering information
This CD can also be downloaded complete, or as individual tracks, from CDBaby. Go to Saint-SaŽns: Music for Organ
Thank you for visiting these pages.
Margaret Phillips
Back to top of page