Margaret Phillips
Concert organist
The Wesleys
Charles Wesley: Voluntary in G minor/major; Samuel Wesley: "Twelve" Short Pieces;
Voluntary in G minor/major Op. 6 No. 9; S.S. Wesley: Choral Song;
Fantasia: Andante Cantabile in G; Introduction & Fugue in C minor;
Air for Holsworthy Church Bells; Andante in G.
Playing time 68:27. Recorded at Wymondham Abbey (James Davis 1793).
York CD 111.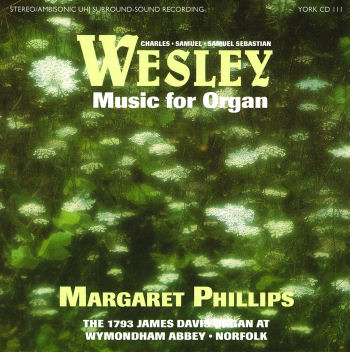 'Here is Margaret Phillips once again bringing ravishingly alive hidden corners of the repertoire... The 1793 James Davis organ is a perfect vehicle for this music... the rather close recording allows Phillips's neat finger work to shine to maximum musical advantage. An enjoyable and important release'
Organists' Review, May 1996
Price and ordering information
This CD can also be downloaded complete, or as individual tracks, from CDBaby. Go to The Wesleys: Music for Organ
Thank you for visiting these pages.
Margaret Phillips
Back to top of page